Joint Mobilisations & Manipulations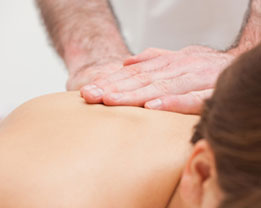 Mobilisation:Joint mobilisation is a passive hands-on movement technique applied to a stiff spinal or peripheral joint. It aims to restore full range of motion to the joint by activating mechanoreceptors within the capsule of the joints. It also has the effect of altering the neuromuscular (nerve) firing within muscles to cause a reflex relaxation of the surrounding tight musculature. Simply, it helps to restore normal pain free motion. Mobilisation is particularly effective when combined with other treatments such as soft tissue and muscle stabilising techniques, along with exercise. Joint manipulation: This technique is an advanced form of mobilisation, and those who respond well to mobilisation will usually respond to manipulation. Joint manipulation is the sudden movement or thrust of small amplitude performed at a high speed at the end of joint range.It is performed primarily to the joints of the neck and back, but can also be performed on other joints if needed. Patient's will usually feel and hear a click. Manipulation can be a very effective method of treatment, but must be performed by a fully qualified Musculoskeletal Physiotherapist with experience in manipulation.
Sports Massage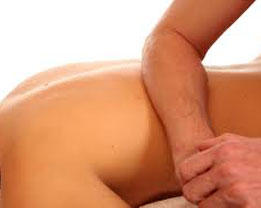 Sports Massage incorporates a variety of different techniques depending on the needs of the individual. It might include some or all of the following techniques: effleurage, petrissage, vibrations, tapotement, frictions, dermal lifting, compressions, soft tissue release and specific stretching techniques. Generally the massage is a lot firmer (deep tissue) than Aromatherapy or Swedish massage. It works primarily on the body's soft tissues of muscles, tendons and fascia. Although it is generally of firmer pressure, all pressure used is carefully tailored to each individuals needs, requirements, preferences and tolerance levels! It can involve working on specific problem areas or old injury sites. It is also a very effective treatment for reducing stress and tension, whether caused by work or through participating in sport.
Acupuncture/Dry Needling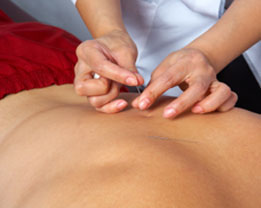 Dry needling is a treatment technique which uses fine acupuncture needles to release tight muscles and myofascial trigger points. A myofascial trigger point is a focus of hyperirritability in a muscle which is often related to the maintenance of the pain cycle. Dry needling is also used to relieve pain in connective tissue and fascia, and therefore is useful in treating acute and chronic orthopaedic conditions. Dry needling is increasingly used in the treatment of musculoskeletal and sports injuries.
Orthotic Prescription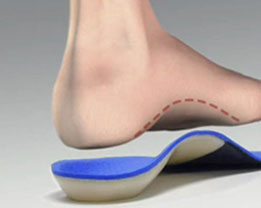 Orthotic biomechanics is concerned with the assessment of skeletal structure, alignment and function of the lower limbs- your legs and feet. The prescription of foot orthoses can help to control the way in which the foot and therefore legs function and thus reduce pain and discomfort. Orthoses combined with appropriate shoes and muscle strength/flexibility exercises, all contribute to improve functional alignment and hence the locomotor system.
Exercise Prescription
Physiotherapy can help to advise you on specific exercises to maximise your health without aggravating pain. It can also assist in correcting inefficient running, throwing, or gym workout techniques. Physiotherapists are highly trained professionals who can identify weaknesses or imbalances in the body. They can help to target specific areas in the body where weakness or pain is felt, and then prescribe a suitable treatment plan. Physiotherapists prescribed exercises are generally employed to specifically target muscle deficiencies, and to also help rehabilitate after and injury, or after undergoing surgery. Therapeutic or prescription exercises are often used to improve strength, function, and mobility, as well as to significantly lessen pain and swelling.
Post Op Rehabilitation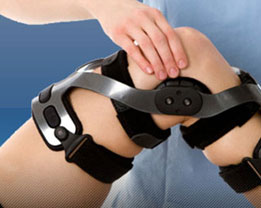 Whether it be an arthroscopy, joint reconstruction or replacement, spinal surgery or fixation following fracture, rehabilitation is an important part of maximising the benefits from surgery. Physiotherapy is able to provide a comprehensive approach to your surgery, it provides treatment to help regain mobility of stiff joints and guide you with exercises which will be progressed as you recover and improve. Physio Performance has an association with some of Irelands leading orthopaedic surgeons. We regularly rehabilitate patients following each surgeon's broad protocols, we develop exercise programs to ensure strength, range of movement and function are regained as early and as effectively as possible. Each program is individually based and progressed accordingly, from the acute stages of post-operative recovery through to complete recovery – whether the goal is a return to sport, return to work or just walking the dog.
Pilates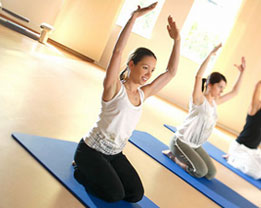 Clinical Pilates is a growing specialty and the ideal way to prevent and manage injuries especially lower back pain. The Pilates method emphasizes abdominal strength and core stability while balancing the rest of the body. Pilates exercises aim to condition the body as a unified structure, not simply as isolated muscles.Clinical Pilates focuses on developing individual programmes of Pilates and Physiotherapy exercises that aim to treat an injury, tone and stretch your body, correct poor posture, alignment and movement patterns. This will reduce the risk of injury and re-injury in the future.